My Talks and Presentations
I love speaking and sharing my views and inspiring people....
Click on any of the links below to hear me speak on topics ranging from collaboration to the complexities surrounding the simmering conflict in eastern Ukraine.
October, 2019, Pan Pacific Hotel, Singapore - Panel: 'Is Volatility the Name of the Game for the Remainder of 2019?'
In this timely panel, organized by the Canadian Chamber of Commerce in Singapore and moderated by BBC World Television anchor/producer Sharanjit Leyl, we delved into a number of issues and conflicts headlining the news in the fourth quarter of 2019: the Hong Kong protests, the China-US trade war, fears of a global recession and the upcoming Canadian elections. For a highlight, click here
June 2019, Swedish Club, Calgary Canada
In a keynote speech covering a variety of global issues, I speak about the ongoing protests in Hong Kong and China's attempts to stifle civil liberties, the crash and investigation of MH17 and the election of a TV comedian-turned-politician in Ukraine. The presentation was delivered to the AGM of the Ukrainian Canadian Professional and Business Association of Calgary.
November 2018, Narrative PR Summit, Cairo
Michael Bociurkiw speaks at the Narrative PR Summit in Cairo, Egypt about 'Smartphone and Social Media Addiction and the Impact on Politics and Global Perception.'
Watch here
August, 2018, Overseas Development Institute, London
August 19 each year marks World Humanitarian Day This year, the Overseas Development Institute invited me to join a panel in London to discuss mental health issues among aid worker. It is a problem which receives scant attention from the UN and other aid agencies.
Watch here
February, 2018, 12 Hay Hill, Mayfair, London
"The World in 2018" - This was an invitation-only, off-the-record discussion with a small group of thought leaders from leading media, humanitarian agencies, philanthropy and analytics. Part of the Curzon Salon series at the exclusive club in Mayfair, 12 Hay Hil
December, 2017: Tiger Conference, Kyiv Ukraine
Country Branding - Ukraine
Starts at 01:59:37 - Watch here
December, 2017: America House, Kyiv
I spoke on 'Fake News and Disinformation' at a time when the phenomenon is reaching a critical phase in many countries around the world.
November, 2017: Halifax Intl. Security Forum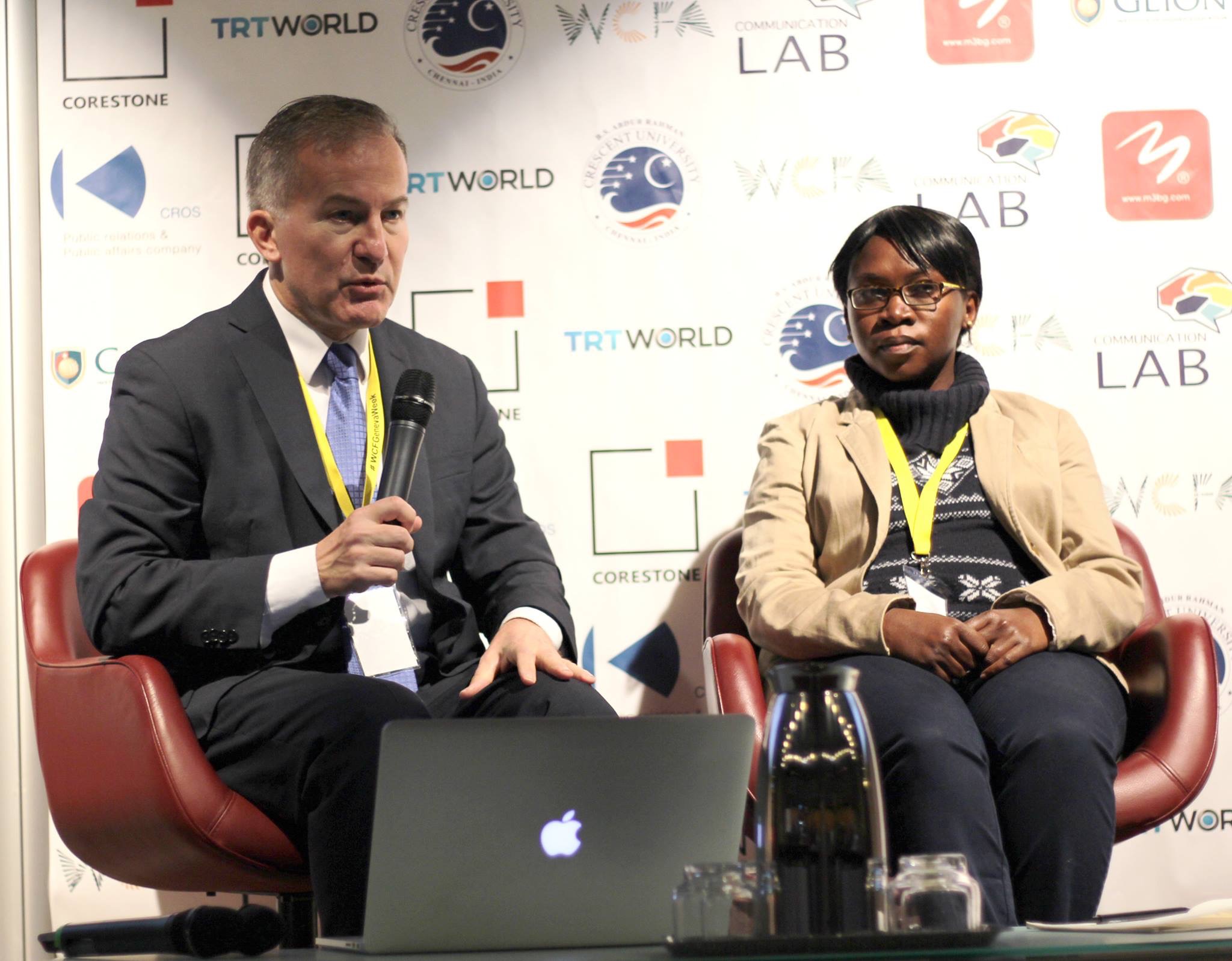 I've been asked many times 'Why South Sudan?' South Sudan - which has few systems, institutions and infrastructure in place - requires strong support to prevent it from collapsing into a long-lasting conflict. The last thing we need right now is another failed state.
- at the World Communications Forum Davos (Geneva), March 2017
March, 2016: SXSW Pitch Stage, Austin, TX
I moderated the SXSW Trade Show Pitch Stage
JULY 17, 2015: Atlantic Council, Washington, DC
Malaysia Airlines Flight MH17
Journalists talked about the circumstances surrounding the downing of Malaysia Airlines Flight 17, which was shot down over eastern Ukraine on July 17, 2014. All 298 passengers and crew on board were killed. The journalists spoke about evidence pointing to a Russian-made missile launcher, the Russian government's denial and attempts to hinder their investigative efforts, and how the crash has affected the conflict in Ukraine. Watch here
Oxford University Alumni Reunion Conference, Vienna, April, 2015
Quo Vadis Ukraine: The Conflict and Beyond - Panel discussion of the Ukraine reviewing the current situation, exploring the context of the conflict which broke out in 2014, assessing its impact on Europe, and identifying what the international community can learn and how it should respond.
Featuring: Lord Patten of Barnes; Jutta Edthofer; Michael Bociurkiw; Gwendolyn Sasse
Watch here
"We live in a hyper-connected world where bad news travels fast..."
- World Communication Forum Davos in Istanbul, Nov 4, 2016

DECEMBER, 2015: University of Alberta
Michael Bociurkiw speaks about the conflict in eastern Ukraine at a seminar arranged by the Canadian Institute of Ukrainian Studies. Watch here
October 31, 2014: University of Ottawa
Michael Bociurkiw, spokesperson, OSCE Special Monitoring Mission to Ukraine, speaking at at the Danyliw Seminar 2014. Watch here